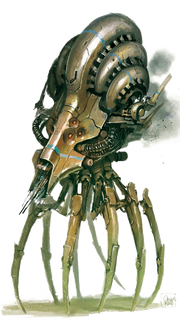 Accelerators are automatons found within the Ninth World.[1]
Background
[
]
Accelerators are artificial intelligences encased in metal shells with numerous limbs, sensory devices, and other accoutrements that allow them to interact with and understand the world around them. Accelerators fear "death" (perhaps "dissolution" is a better term) and concoct elaborate plans to develop better protections for themselves. Ironically, sometimes this puts them in danger as they try to take control of a defensible fortress or obtain a device that will grant them a powerful force field. Accelerators stand 15 feet (4.6 m) high. They often move along the ground, but they can briefly fly and hover.
Abilities and Traits
[
]
Motive:
[
]
Proactive self-defense
Environment:
[
]
Anywhere
Health:
[
]
30
Damage Inflicted:
[
]
7 points
Armor:
[
]
4
Movement:
[
]
Long
Modifications:
[
]
Perceives as level 8; Speed defense as level 5 due to size.
Combat:
[
]
Accelerators can defend themselves with a number of bladelike appendages, attacking up to three foes as a single action. Additionally, they can alter the acceleration of up to three different creatures or objects within immediate range, from halting a moving object to causing an object to suddenly move rapidly and with force. This power can be used in a variety of ways. They can: hurl a heavy object at a target in short range (7 points of damage), hurl a light object up to long range (5 points of damage), or hurl a foe away from them up to short range (7 points of damage). A moving character or object within immediate range can also be forced to stop immediately and remain motionless for one round. If seriously threatened, an accelerator always chooses flight over fight.
Interaction:
[
]
Accelerators are extraordinarily paranoid and fearful. It is extremely difficult (level 9) to gain one's trust. They speak a wide variety of languages and are smart enough to pick up new ones within minutes.
Use:
[
]
Accelerators aren't evil, but their self-centered paranoia means they might act as if they were true villains in the eyes of others.
Loot:
[
]
A destroyed accelerator yields 1d100 + 20 shins, 1d6 + 1 cyphers, and an oddity.
Miscellaneous
[
]
GM Intrusion: The accelerator activates a device that it has acquired, gaining a force shield that grants it 3 extra points of Armor for one minute.
References
[
]
↑ Cook, Monte, et al. "Creatures." Numenera The Ninth World Bestiary, Monte Cook Games, LLP, 2014, pp. 20. Numenera The Ninth World Bestiary. ISBN 978-1-939979-09-4