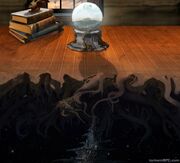 The Castoff's Labyrinth is a product of the mind of the Last Castoff, accessible through their "death" or some trance.
Description
[
]
It is a place full of wonders and strange things, but more important, it is the home of many secrets, unreachable otherwise. Reflections of other peoples, especially those who accompany him, can be found here. This is also the home of the Lacunae, figments of the mind of the Last Castoff.
To rise again, the Last Castoff has to find the exit of this labyrinth. But with each death, the Castoff's Labyrinth grow larger, deeper and more complex. But the treasures (like cyphers and secret Meres) found there are even greater. The depths of this mind trap are called Fathoms.
Strangely enough, portals that can transport the Last Castoff's body elsewhere on the Ninth World can also be found in the labyrinth.
Behind the Scenes
[
]
The Castoff's Labyrinth was planned to be added to the Torment: Tides of Numenera video game after its Kickstarter campaign reached two and a half million dollars to expend the death gameplay even further than in Planescape: Torment, where the player rised again after each death in the Mortuary.
After having reached the said stretch goal, inXile Entertainment decided to offer the backers a way to expand the Castoff's Labyrinth. For each slice of 3,000 backers after 45,000 (a number reached at the same time than the stretch goal) on Kickstarter and Paypal, they will add another level, called a Fathom. Some Fathom were also added when the inXile Facebook page reached a specific number.
Other parts of the Labyrinth were added through stretch goals, like the secret Meres, the Reflections, the Lacunae and the portals.
Artwork Gallery (by Dana Knutson)
[
]