The Mloxan are an intelligent, humanoid race that resides upon the Ninth World's Earth.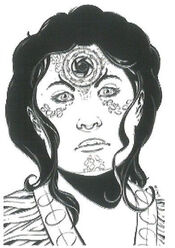 Appearance and Traits
[
]
Mloxan are nearly indistinguishable from normal human beings, aside from the fact that they can open up a portion of their forehead to reveal a glowing mechanical "third eye". This third eye, in turn, is also part of their mechanical brain, thus making them machine-minded people in biological human bodies, similar to the ghru. These brains of theirs can make them extra perceptive and adaptive to their surroundings, so long as their machine eye is active, thus allowing them to better connect to the world around them and gain unique abilities. But while they can appear to be slightly hardier than the average humans, they've also become more fragile. This can be seen with them having a force screen while their third eye is active that enables better resistance to damage but becoming more prone to illness and injury while hidden, as a result of the imperfect connection between their minds and their bodies.
While passing as a normal human being, their senses are greatly dulled, with their reactions slightly slower than what would typically be expected. However, to make up for this, they are otherwise able to easily blend into human society and know a variety of various human languages, including any dialects, accents or even slang. Quick to learn and serving as excellent emulators, they can easily copy the local attire as well as any speech or bit of body language so as to better accommodate the person they're interacting with. They may even be found amid a flurry of different organizations amid human society.
Despite being able to take on physical aspects, such as a specific gender, they are otherwise unable procreate with any kind of humans or even visitants. As for how they actually reproduce, that still remains a closely guarded secret, though some believe they simply can't. [1]
Society and Culture
[
]
Mloxan tend to be secretive of their true identities, more often than not willing to identify as human, only revealing their true forms either to those they deeply trust or when under extreme duress. They usually try to avoid conflict whenever possible, but when they do fight, they'll do so out of defense and use traditional human weapons without activating any skills deemed unusual by others. It's only to very skilled combatants that they may finally open up their mechanical eye and reveal the true extent of their abilities.[2]
Miscellaneous
[
]
Despite or even because of their internal mechanized brains, mloxan tend to be distrustful towards all creatures that are mechanical in nature, attempting to stay far away from them whenever possible[3]
Among their number, mloxan may also bear secret names known only to themselves, with the names they give to others being very common and human in nature, though with slight changes over time. [4]
References
[
]