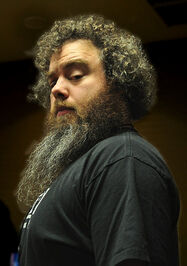 Patrick Rothfuss is a fantasy writer, well known for his three-volume series Kingkiller Chronicle. He joined the Writing Team of Torment: Tides of Numenera after the Kickstarter campaign reached the $3,25M stretch goal, and another stretch goal ($3,4M) gave him the opportunity to write one the several companions of the game. He will also write a digital comic book related to the game.
Colin McComb and him meet during GenCon 2012, sharing their love for each other works. That way, Colin McComb discovered that Pat Rothfuss was a fan of Planescape: Torment. Very early in the project, he wanted to bring the author in the team.
When he was first presented with the idea, Patrick Rothfuss refused the proposition, felling he was way too late in his personal writing to add a side project in is schedule. However, a sucession of event let him find a new perspective and a renewed energy, and in the middle of the Torment Kickstarter campaign, he asked Colin McComb if he could still be a part of the adventure, ultimatly leading to his addition as a stretch goal[1].
References
[
]