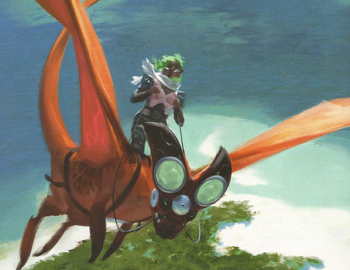 Rasters are flying beasts found within the Ninth World.
Background
[
]
Raster are biomechanical creatures that use antigravity suspensors and large, bat-like wings to carry themselves aloft at great speed despite their size. A typical raster has a 30 ft. wingspan. They're native to the land of Ancuan in the southern region of the Steadfast.[1]
Abilities and Traits
[
]
Motive:
[
]
Hungers for flesh
Environment:
[
]
Rasters dwell in clutches of three to five, usually not far from a large body of water.
Health:
[
]
18
Damage Inflicted:
[
]
4 points
Armor:
[
]
1
Movement:
[
]
Long while flying; short while on the ground
Modifications:
[
]
Perception within long range as level 5, but beyond that, as level 2
Combat:
[
]
Rasters avoid danger and combat if possible. If they must fight, they prefer to use a long-range energy generator in their head that fires bursts of invisible energy (long range, 6 points of damage). They never fight to the death, as it's usually easy fro them to escape by flying away.
Interaction:
[
]
Sometimes rasters are encountered in the wild, nesting on rocky islands along the coast. More often, however, they're tamed, trained, and used as aerial mounts. Riders use sonic prods to control them.
Use:
[
]
A small clutch of rasters has moved into a ruined keep not far from a small town. The mayor, who wants to refurbish and use the keep, seeks mercenaries to clear out the rasters. Meanwhile, local raiders have put the word that they would pay well for any young rasters brought to them alive.
Loot:
[
]
The biomechanical nature of a raster means that its body contains 1d6 - 2 cyphers (which also means that some bodies have none).[2]
Miscellaneous
[
]
Many people have seen epic battles between rastriders and xi-drake mounted Angulan Knights in the skies over the lands of the southern Steadfast.[3]
References
[
]
↑ Cook, Monte, et al. "Creatures." Numenera Discovery, Monte Cook Games, LLP, 2018, pp. 248. Numenera. ISBN 978-1-939979-45-2
↑ Cook, Monte, et al. "Creatures." Numenera Discovery, Monte Cook Games, LLP, 2018, pp. 248. Numenera. ISBN 978-1-939979-45-2
↑ Cook, Monte, et al. "Creatures." Numenera Discovery, Monte Cook Games, LLP, 2018, pp. 248. Numenera. ISBN 978-1-939979-45-2