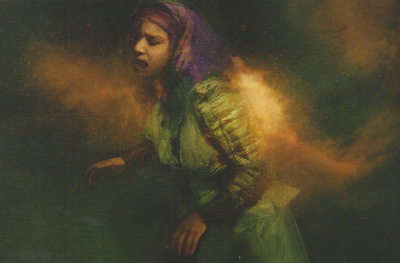 Yellow Swarms are swarms of tiny yellow insects that can phase in and out of reality.
Background
[
]
Yellow swarms are groups of weird ultradimensional insects. They must stay close in proximity to one another, or they'll lose their ability to remain in this reality. They look like a small cloud of yellow locusts until you get close enough to see that they are transparent and oddly configured, with asymmetrical bodies that have 7 legs and 5 wings.
Yellow swarms feed on various chemicals contained within the brains and spines of many creatures living in the Ninth World.[1]
Abilities and Traits
[
]
Motive:
[
]
Hungers for various organic compounds
Environment:
[
]
Anywhere
Health:
[
]
18
Damage Inflicted:
[
]
5 points
Movement:
[
]
Short
Modifications:
[
]
Speed defense as level 6.
Combat:
[
]
A yellow swarm will move in and attack with hundreds of tiny bites and stings. The trick to fighting a swarm is that it fades in and out of reality, so every round, the GM rolls a d6 (yes, the GM rolls a die). If the result is a 1-3, no attacks or special abilities will affect the swarm in that round, but the players don't learn this until after they've declared their actions. However, the swarm always attacks just before or after fading, so it's always able to affect creatures within this world.
Interaction:
[
]
It's not possible to communicate with a yellow swarm.
Use:
[
]
Yellow swarms often linger near interdimensional gates or other access points, so the presence of a swarm is a good indicator that a gate's nearby.[2]
Miscellaneous
[
]
The people of the Ninth World often refer to extradimensional entities such as the yellow swarm or the erynth grask as "demons."They think of them as supernatural, otherworldly beings of pure evil. The truth is often more complex, but the dangers that these creatures pose make people's perceptions understandable.[3]
References
[
]
↑ Cook, Monte, et al. "Creatures." Numenera Discovery, Monte Cook Games, LLP, 2018, pp. 260. Numenera. ISBN 978-1-939979-45-2
↑ Cook, Monte, et al. "Creatures." Numenera Discovery, Monte Cook Games, LLP, 2018, pp. 260. Numenera. ISBN 978-1-939979-45-2
↑ Cook, Monte, et al. "Creatures." Numenera Discovery, Monte Cook Games, LLP, 2018, pp. 260. Numenera. ISBN 978-1-939979-45-2